Electronic Marketing BUTT Camps
(Graduates come to all future regular Butt Camps FREE FOREVER. Click here to see why this is really important to you and your business.)

August 9 & 10 Virginia Beach. Click Here for Details.
Vip Video Day August 8th & 11th Click Here for Details
NOTE: You can now watch the live stream wherever you live, i.e. you don't have to travel to experience ButtCamp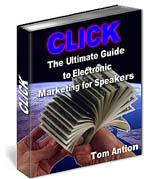 Version 4.0
Click: The Ultimate Guide to Electronic Marketing for Speakers
http://www.antion.com/click.htm

Over 700 E Marketing Links
1040 Pages.