Referrals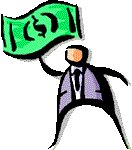 You can make money just by knowing the right people. Tom pays a 10%-25% commission for referrals depending on your level of involvement. If you know any association or corporate executives that have a need for what Tom has to offer, by all means call in your lead. (757) 431-1366 or Email orders@antion.com You will get a finder's fee check in the mail immediately after the job is completed.
Don't forget our educational products. If we make a bulk sale because of your lead, we will pay your a commission for that too.
Can't accept referral money? Tom will donate your referral finder's fee to your favorite charity in your name.

FREE SUBSCRIPTION TO:
GREAT SPEAKING is the Electronic Magazine for Presentations Skills Tips, Speaking 4 Money, Speaking Business Referrals, Speaker Marketing, Speaker Humor, and other Public Speaking related Features. Click here for your FREE Subscription.