Speaker Training Junkets
Go on the road with Tom Antion
---

FREE SUBSCRIPTION TO:
GREAT SPEAKING is the Electronic Magazine for Presentations Skills Tips, Speaking 4 Money, Speaking Business Referrals, Speaker Marketing, Speaker Humor, Training, and other Public Speaking related Features. Click here for your FREE Subscription.

Go on the Road With Tom
You will learn the whole process of booking, preparing for, traveling to, executing, and following-up on major domestic and international presentations.
To see what a recent graduate had to say about her experience click here.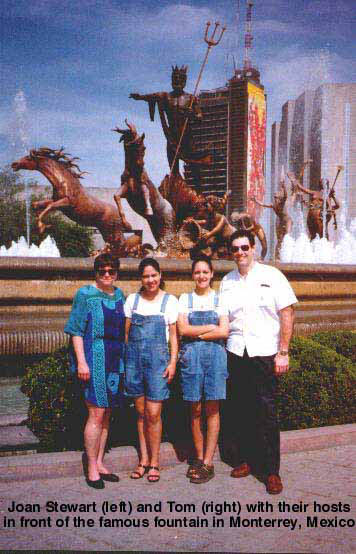 Your package will include:
PRE-TRIP
Up to five hours personal distance training with Tom on the following topics:
How the presentation was booked.

How to position yourself as the "main event."

How to prepare for the trip.

How to "Make 'em Love Ya" BEFORE you get there.

How to get extra promotion before and after the event.
PRE-PROGRAM
You will travel to the program with Tom (our schedules permitting), and get training on any speaking topic you want during the trip.

You go with Tom on any media events he has planned during the trip.
AT THE PROGRAM YOU WILL:
Check the presentation room with Tom well before the program.

Be in the room (if possible) several hours prior to the program to learn how to check all the details Tom checks prior to a big event.

Learn how to troubleshoot all the pre-program glitches (Tom guarantees there will be some).

Learn all the details of stage set-up, and seating that are critical to your best performance.

Socialize with the audience members as they arrive and learn how to identify those that can possibly hire you.
DURING THE PROGRAM
Sit back and enjoy the show, or assist Tom . . .your choice

Observe and possibly assist in back of the room sales

Socialize with audience members.

Attend Tom's new mentee dinner (if applicable)

Enjoy the local sites until it's time to depart, or plan an extended vacation stay.
POST-PROGRAM (after you return home)
Debrief the program with Tom . . .this could include discussions of changes made on-the-fly and why they were made, unexpected occurrences and how they were handled, overall impression of the program, etc.

Discuss Tom's follow-up strategies for this event.
Each Junket is different and is limited to three speakers. You may get a small group together, if you wish, at a discounted rate, but actual training time and ability to include the entire group in the program will be limited. These one-of-a-kind opportunities would be equivalent to a Ph.D in speaking.
Junkets start at $4995.00. (which translates to what you can make in about 30 minutes of a speech once you learn how) . . . We accept VISA / MC / AMEX . . . PLUS you will get "The Wake 'em Up Video Professional Speaking System" included in the deal. This is a first come, first serve offer and their are very few opportunities available. Call Tom at 301-346-7403 to boost your career.
3 Slots available in each of the upcoming events below:
October Author 101 University
October Debbie Allen's Highly Paid Expert Event
Click here to order from our secure shopping cart. Put the date and city in the notes area when you check out.
Note: This is a very exclusive opportunity and is non refundable unless we can find someone to fill your spot in case of cancellation. You are permitted one rescheduling if you purchase and cannot attend on the date you originally requested. You are responsible for your registration fees for the event, transportation and lodging. Also, Tom will not be available to you 24/7 as he must rest and prepare properly so he does a great job on his speech.