Tom Antion's Speaker Services
Your source for professional level speaking information
We have many services and educational material available for anyone who wants to be GREAT when they stand in front of a group.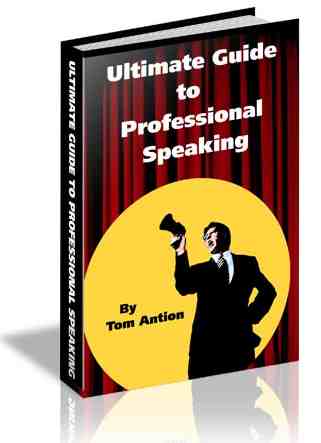 FREE SUBSCRIPTION TO:
GREAT SPEAKING is the Electronic Magazine for Presentations Skills Tips, Speaking 4 Money, Speaking Business Referrals, Speaker Marketing, Speaker Humor, and other Public Speaking related Features. Click here for your FREE Subscription.
My most outrageous FREE offer ever
The Speaker Shop
Full line of speaker training materials to make your performance on stage and income from speaking soar.
Speaker Training Junkets
Tom gives you a virtual Ph.D in Speaking.
Wake 'em Up Video Professional Speaking System
FREE Articles
On Advanced Speaking Skills

FREE 7 Day Electronic Marketing Mini Course
Learn what you need to know about websites, associate programs, website sales process, email marketing, ebooks and much more.
FREE Book Chapter
From Tom's Best Selling Advanced Presentation Skills Book Wake 'em Up Business Presentations now in its second printing.
FREE Book
The entire text of Wake 'em Up! is on this site. WARNING: This is a large file and it's cheaper to buy the book than print the whole thing out :)
Speaker Consulting-- How to Make Money Speaking
Learn how you can turn your knowledge and life experiences into thousands of dollars per event. Call for Details (800) 448-6280
Speaker Consulting -- Media Marketing
Tom will show you how to get people to call you for speaking engagements. Call for Details (800) 448-6280
Speaker Educational CDs
Top quality advanced speaker training materials. --Even if you are a beginner, why not learn the techniques needed to be great in today's tough audience environment?
Professional Speaking System
Make $5500.00 per speech and get your instructions on how to do it in one cost and time effective package.
FREE Speaker Humor
FREE Categorized humor for speakers and we're adding more all the time.
Video / Audio Tape Critique (See a Sample)
Get an objective and unbiased critique of your performance by one of the top speaker coaches in the country. PLUS recommendations for areas of needed improvement. WARNING: This is not for the faint at heart. If you want to get better you must recognize that no matter how good and/or successful you are, you probably have presentation weaknesses.